The Norfolk Broads offers a unique boating holiday experience, as the largest protected wetland in Britain. The Norfolk Broads is the third largest Inland waterway, and with 125 miles of lock free cruising it is well suited for novices to boating.
Exploring this National Park by boat allows you to visit places of interest and see the scenery of the Broads from a completely different perspective. You can moor your hire boat outside a waterfront pub, or take a walk down one of the many nature trails, to explore the Broads by foot. The Norfolk Broads are full of family friendly activities, both on and off the water. Treehouse Adventure Park, 'BeWilderwood' located near Horning, is a favourite for young family parties. You can also visit places full of culture such as the historic city of Norwich on the River Wensum, which is just upstream from the River Yare.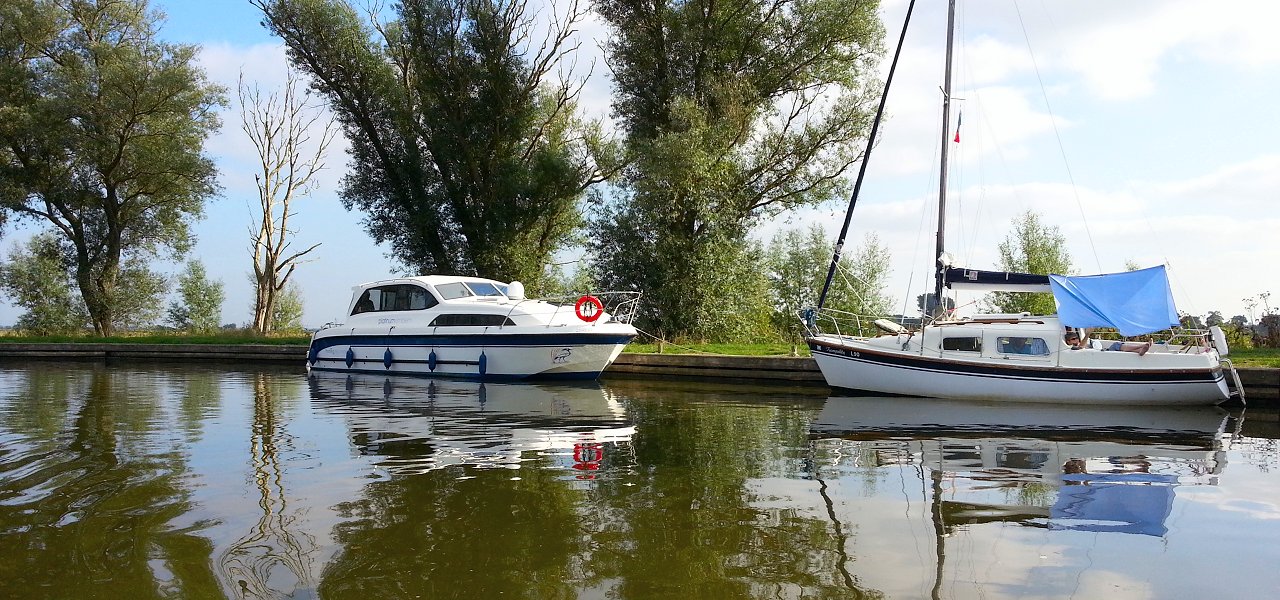 Motor Cruisers
We offer a variety of hire boats on the Norfolk Broads, including vintage cruisers, traditional sailing yachts and the more modern motor cruisers. Each hire boat offers a different holiday experience, and full tuition is provided for the cruisers on the Norfolk Broads.
All boats are fully equipped with everything you need to self cater including pots and pans, cutlery and cooking utensils. All the motor cruisers are available with bedlinen, and on the sailing yachts they tend to have freshly laundered sleeping bags. TV's, DVD's, Radios and CD Players will be on-board each cruiser hire boat.
For those looking for a luxury boating holiday, the modern motor cruisers are equipped with bow and stern thrusters (to aid with mooring), 240 Volts, LED lighting, solar panels, shore power hookup, as well as a satellite tracking dome to receive Freesat channels on a LCD flat screen TV.
Sailing Holidays on the Norfolk Broads
For those wishing to hire a traditional sailing yacht on the Inland Waterways, the Norfolk Broads offers an ideal location for a relaxed break sailing the Broads around Hickling and Horsey Mere. Yachts are available from Martham, just east of the Potter Heigham Bridge, the lowest Medieval bridge on the Norfolk Broads, and from Upton. Cruise the River Ant to Barton Broad, the largest Broad, which is said to be where Lord Nelson learnt to sail.
For more information on hiring a boat on the Norfolk Broads, you are more than welcome to give us a call on 01252 796 401. As experienced boaters ourselves, we have all cruised on the Norfolk Broads and will be happy to offer advice in finding your suitable boating holiday.